Flavonoid concentration in milling fractions of Tartary and common buckwheat
Abstract
Common buckwheat (Fagopyrum esculentum Moench) and Tartary buckwheat (F. tataricum Gaertn.) samples were used in milling, sieving and analysing experiments. Flavonoids were analysed in buckwheat samples, in milling and sieving fractions and after the contact of flour particles with water, to simulate conditions in dough.
In Tartary buckwheat, there was even more than 100-times higher content of flavonoids flour in comparison to respective fractions of common buckwheat flour. The highest concentration of flavonoids in milling fractions of Tartary buckwheat flour (granulation over 100 |im up to including 1000 |im) was established as 3.5-4.5% flavonoids/DM.
Immediately after the direct contact of flour particles of common and Tartary buckwheat with water the apparent concentration of flavonoids rose (even for 100% or more) in the first 5-30 minutes of contact. After one hour, due to the degradation of flavonoids, their concentration decreased. Concentration of flavonoids are after 24 hours of contact of flavonoids with water in all milling fractions lower in comparison to the value after first 5 minutes of contact with water.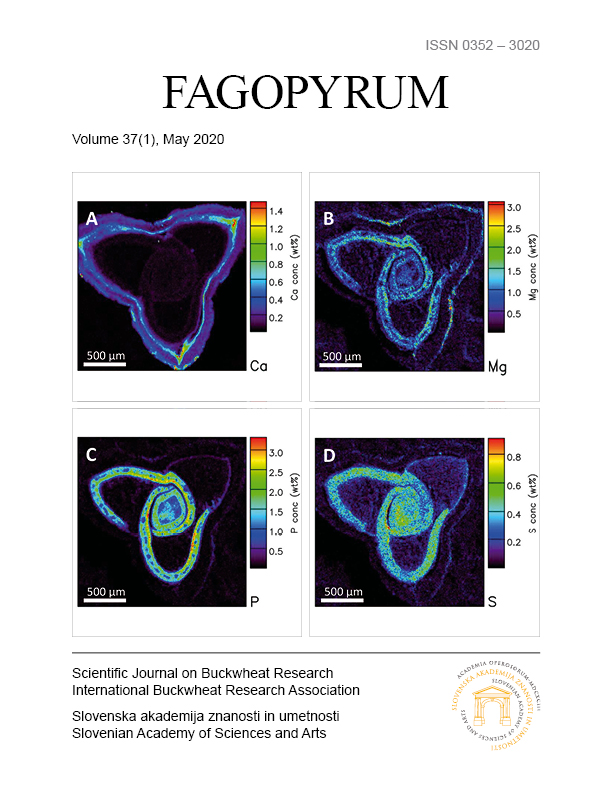 Downloads